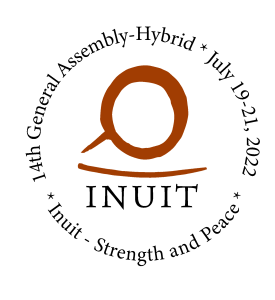 14th ICC General Assembly
 "Inuit – Strength and Peace"
July 19-21, 2022
HYBRID
ASSEMBLY PATRON: Premier Múte Bourup Egede
Inuit from Canada, Alaska, Greenland and Chukotka will come together July 19-21, 2022 in a hybrid format for the 14th Inuit Circumpolar Council (ICC) General Assembly under the theme  "Inuit – Strength and Peace".
ICC holds a General Assembly every four years at which Inuit delegates from across the Circumpolar region elect a new Chair and an Executive Council, develop policies, and adopt resolutions that will guide the activities of the organization for the coming term. The General Assembly is the heart of the organization, providing an opportunity for sharing information, discussing common concerns, debating issues, and strengthening the bonds between all Inuit.
ICC has become one of the most respected international Indigenous organizations and a trusted and compelling voice for Inuit in Arctic global issues. Over the intervening years ICC has come together 13 times with strong Inuit leadership and visionaries in a collective voice as a General Assembly.
This General Assembly will be held virtually this year. The public is welcomed to join via livestream. More details are to come closer to the meeting date!
The in-person General Assembly will be held in Ilulissat, Greenland in July 2023.
Live Stream the General Assembly